Well, to be honest, Ian's goodbye took me at a shock. He's put his blood, sweat and tears into this site, and in all truth, he has done a pretty amazing job at it. He has been an amazing boss and friend, and it was honestly a pleasure to work with him. I look forward to seeing WatchHallow bloom into an amazing site.
As for the other WU staff members, you guys are amazing as well! I may not have been in close contact with most of you, you guys have been awesome!
Another...
Read Full Post »
November: The time to hunt down turkeys and trample people for items on sale
I hope that all of you had an amazing Thanksgiving and had shared your graces. I also hoped that nobody killed anybody during Black Frida...
Read Full Post »
Last time I checked, the last time I made a blog post was in August.
Man, how time flies by, right?
Although I am still on hiatus, I will make occasional appearances since I still blog here and I have to prioritize. Even plus, who doesn't blog around the holidays? Potatoes, thats who.
So, since it's November, I am trying to enforce Thanksgiving since THERE IS CHRISTMAS STUFF EVERYWHERE AND I'M READY TO GO INSANE. I figured it would be nice to do a lit...
Read Full Post »
Hi guys!
I'm really, really sorry I haven't been on in like a month. I have decided to go on an unannounced hiatus, thinking that you know, nobody would notice my disappearance. But when I noticed that a few people were questioning where I was, I felt really bad on not saying it.
So here it is; I am on hiatus.
How long? I don't even know.
I had started junior year. For those who haven't experienced junior year yet, consider yourself lucky- for n...
Read Full Post »
Many teenagers have struggles. Whether it's depression, eating disorders, lonliness, etc. But mines is slightly different. I've suffered with Type 1 Diabetes for many years.
A lot of people don't care much about Diabetes. Nor do they take the depression that Diabetes fuels seriously either. So, let me explain to you what Type 1 Diabetes is, how different it is from Type 2 Diabetes, and how it can give a mental impact to many, many teenagers before I tell you my story.
Read Full Post »
I apologize for the lack of posts. I'm not going to say it was because I was busy. Mainly because I wasn't. I was cooped up in my home for literally three weeks and I went stir crazy (Sims 3 reference. Heh.)
A few weeks ago, fishing was introduced into the Test Realm and I was really excited. Although the feature was frustrating for me, in my opinion, I was like: "Man, I could make a guide out of this." But that was BEFORE the updates.
When I was so close to posting my guide, I ac...
Read Full Post »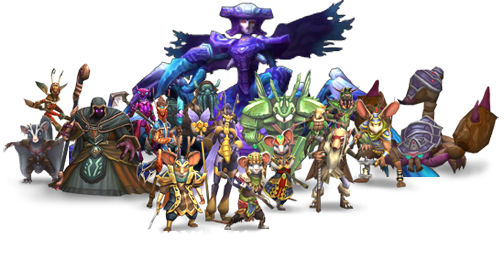 Shadow Morganthe render belongs to Swordroll
I know this is pretty late. But I figured if it involves new content, it would be best to post it in over a month. That way I wouldn't have to spoil it for a lot of people. And for those people who can't wait to do Khrysalis Part 2 an...
Read Full Post »
Everytime new content comes out, the areas are flooding with players excited to get new and shiny things.
But everything has their pros and cons.
One of the cons of street questing is running into rude people, or perhaps being rude to them yourself. 
Last week, I asked Twizards what strangers do or say that they dis...
Read Full Post »
So, the only valid reason I can give for my near-month of non-posting is because my spring break came in very late and I had a gajillion schoolwork and projects to do and I was to the brink of exhaustion. Finally, my spring break came and I've been spending it by gluing my butt to the couch and catching up on OUAT before questing on Khrysalis Part 2.
So, although I've been spending my time relaxing, I still have some things to go over.
On April 20 officially marked my ...
Read Full Post »
Okay, I've been bottling up my opinions on how I feel about the way the Twizard community has been acting and as a blogger, I should have the right to express my opinion without fear of hate or getting pulled into drama. So, I am practically dancing on my grave as I write this post.
I have been a Twizard since April 2010, that's a long time, almost four years actually. I have seen many, MANY, people come and go. I've made so many friends over the years, and I miss most of th...
Read Full Post »